The Resource Hub
Our resource hub has resources featuring classroom-based training for PET professionals, industry articles, white papers, and much more. Developed by experts for professionals to expand their skills, and explore trends and perspectives that permeate the plastic industry.
Enhance Your Technical Knowledge
Our plastics and packaging industry experts with extensive years of experience designed a catalog of courses to provide industry professionals with training on a variety of subjects from materials to recycling. Most courses are conducted in small groups to encourage interaction, networking and practical application sessions.
Scheduled classes are offered at PTI locations in the U.S. and Europe. We can also host off-site courses at your location, or tailor a specialized course based on your company's needs and objectives. Keep checking back for new trainings in the resource hub.
Looking for an easy way to measure the resulting IV of a resin? Check out our IV Calculator, available for use on a PC or a mac – or via app on your smartphone for when you are on the go. 
When the user inputs the IV values of the specific resins being used for the blend, the app will instantly display the resulting IV. The calculator also provides the molecular weight of the individual resins.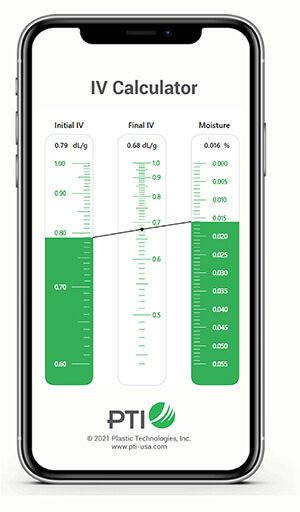 Proper drying is required for good melt processing of PET. At melt processing temperatures, hydrolytic degradation occurs as a reaction of PET with moisture in the resin pellets.